A month into 2022, it's finally time to take a look back at 2021. This was our first full year in business, and it has been beyond anything we could have hoped for!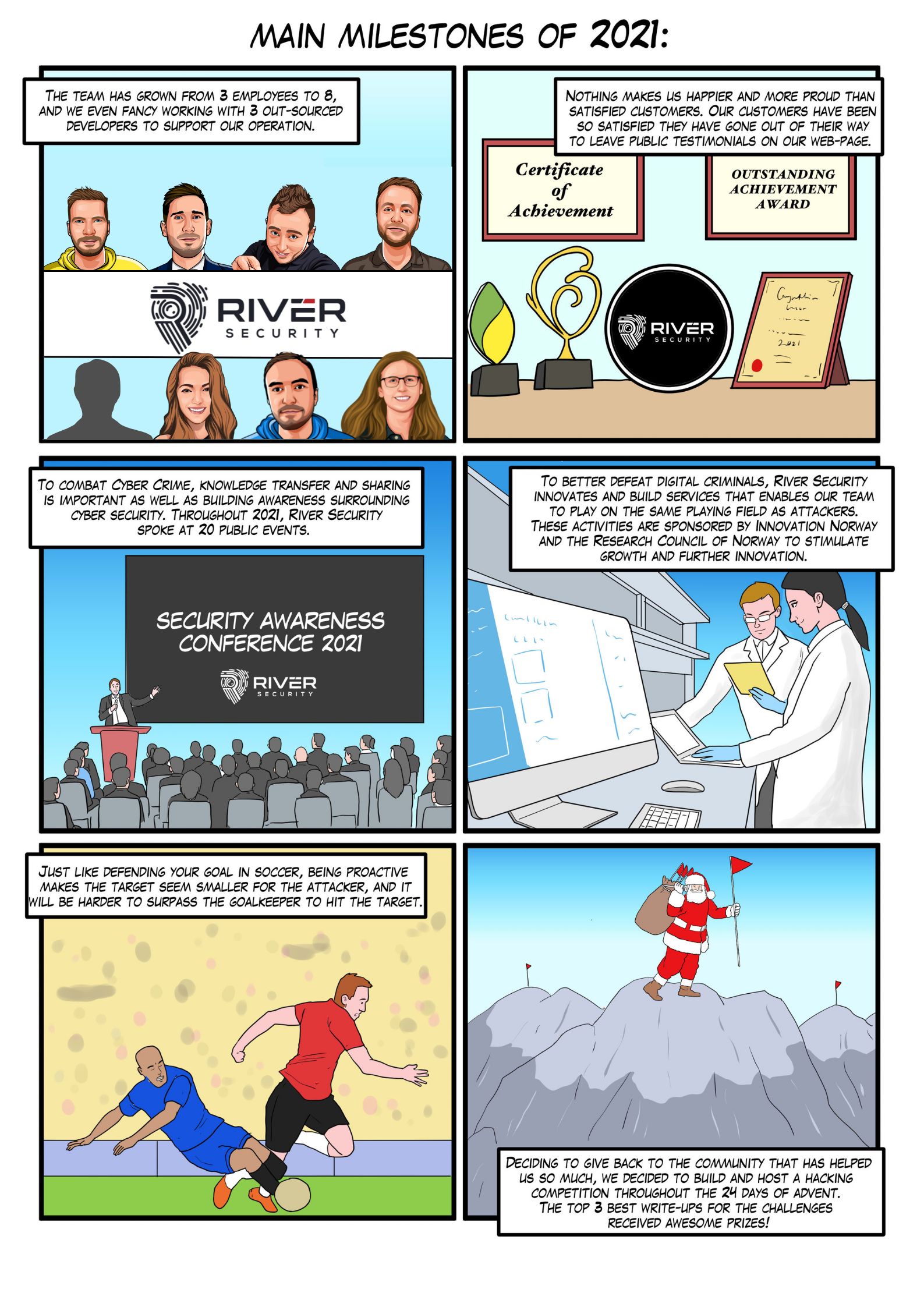 We are sincerely grateful for the opportunity to welcome new highly skilled team members to our River Security family. Every day we witness incredible passion and drive within our members' areas of expertise.
Our customer-base has grown tremendously, and we appreciate each and every one of them. We can clearly see that many companies are becoming more aware of the risks related to their digital presence, and that there is a desire to invest in proactive and continuous services like Active Focus to reduce the risk significantly. We are proud of all the customers that trusts us with their valuable digital assets, and especially proud of the great feedback we receive both personally, and publicly in our testimonials. We proudly present a brief excerpt from a testimonial on Active Focus:
[…] One of the differentiating features of River Security is that they focus on real threats and areas that need attention – so we not only know about vulnerabilities, dark web disclosures and other issues, but also how they will affect our business. The focus on a pragmatic and customized approach results in River Security getting integrated into our daily security operations, and we are quickly able to resolve matters. […]

Ole-Martin Bækkeli – CISO Azets
Through 2021, we have spoken at several public events for everything from industry leaders to companies and educational institutions. We have also published several articles where knowledge-sharing is the key priority. We appreciate all events, companies, institutions and news papers for having us!
We have spent a lot of time further developing our services, especially Active Focus, which has been sponsored by Innovation Norway and The Research Council of Norway. Their support means a lot to us in further developing and perfecting our continuous and proactive services!
Through the last 24 days before Christmas, we built and hosted a hacking competition, Capture the Flag (CTF) for our community. We received many great write-ups and announced the winners on our blog and LinkedIn-page.
We don't have any new years resolutions for this year, as 2021 exceeded all our expectations, but some of our focus areas will be:
Take great care of our existing customers, and welcoming new
Expand our team of experts to meet the market demand, and continue making River Security a great place to work
Further develop our services and continuously adapt to changes in the Cyber sphere
And most importantly; Continue fighting cyber crime!
Thank you!